We went to the launch of the all-new Lexus UX small SUV in February, and found it to be well specced, and not a bad looker. It's eventually going to replace the CT200.
Just before the launch, Lexus sent us a UX200 (non-hybrid) for a few days as a teaser, to see what it was like. I'm not sure that was a good move, as the base UX200 model left me feeling a bit meh. It didn't get me going at all.
For our full review, they've sent us the UX250h F Sport model – not only does it have a really long name, but it's the hybrid version. Since there's seven models of UX for sale and five of these are hybrid, it makes sense to give us a hybrid.
But I was worried – would the hybrid version lift me above a 'meh' rating for the UX?
The Range
There's two entry level UX models, both front-wheel drive and both non-hybrid. The other five models of UX are hybrids, so you can really see where Lexus is putting the emphasis.
The cheapest model is the UX200 at $59,990. This car runs a 2.0-litre, 4-cylinder petrol motor putting out 126kW of power and a reasonable 205Nm of torque, but at a high 4,800rpm. It should give you 5.8L/100km of petrol. Next up is the UX200 F Sport with the same drivetrain, running at $69,990. The difference between the two is what's fitted as standard equipment. Both are fitted with a CVT transmission.
That list isn't too bad, with the base model receiving automatic headlights, LED front fog lights, LED headlights, LED DRLs, self-levelling headlights, rear privacy glass, heated and power folding exterior mirrors, 18" alloy wheels, power adjustable and heated front seats, keyless entry and start, power tilt/telescoping steering wheel, front and rear parking sensors, an electric tailgate, a 10.3" central display,  8-speaker audio system, 2 front and 2 rear USB ports, and SatNav with SUNA traffic updates.
Safety features abound too, with all models receiving all safety features, like pre collision system, autonomous emergency braking, adaptive cruise control, Lane Tracing Assist, lane departure alert, Lane Centering Function, auto high beam headlights, hill start assist, Active Cornering Assist, 8 airbags, blind spot monitoring, and rear cross traffic alert.
So that's just the base UX200. If you buy the UX200 F Sport, you also get cornering lights, headlight cleaners, LED projector headlamps, exterior mirrors that reverse tilt as well as auto dimming and auto folding, an F Sport front bumper, front mesh grille, front fender emblems and F Sport wheels. You also receive the F Sport movable ring for the dash (more on that later), a heads-up display (HUD), leather seating with memory function and also ventilation, and a panoramic view monitor system (360-degree camera). 
Then we move up to the UX250h range, which are all hybrids. None of these are plug-in hybrids, so all run the same powertrain; a 2.0-litre, 4-cylinder petrol engine mated to a CVT transmission, with the engine giving you 107kW of power and 188Nm of torque. Added to this is the hybrid system for a total combined power output of 135kW. Lexus claims a combined fuel rating of 4.5L/100km for the front-wheel drive versions, and 4.7 for the AWDs. Looking at those numbers, that's a litre of petrol less per 100km driven over the non-hybrid.
The five hybrid models are the 3 FWD models – UX250h, F Sport, and Limited. Then there's two AWD models – UX250h AWD, and Limited.
Equipment levels for the hybrid versions run in parallel with the non-hybrids, except that the Limited models in FWD or AWD up-spec the audio to a Mark Levinson Premium audio system with 13 speakers, with Clari-Fi music restoration technology, and the seating material moves up to Sashiko quilted leather. Limited models lose the F Sport bumper and other F Sport adornments.
Prices for the hybrids are:
      

UX250h – $62,900

      

UX250h F Sport – $72,900

      

UX250h Limited – $72,900

      

UX250h AWD – $65,900

      

UX250h AWD Limited – $75,900
Lexus actually gives you a range of 12 exterior colours to choose from, and even the base model has two interior colour options, with the F Sport models having 3 options (including a stunning red leather interior) and the Limited gets 4 colour options.
You can read more about the UX models on Lexus New Zealand's website.
First Impressions
You can't say the UX doesn't catch your eye. All those squared-off edges, funky taillights and of course that grille means this car will never be mistaken for another. I must admit, while I'm not a fan of the 'gaping mouth' look of the Lexus range, it seems to suit the UX a bit more. Perhaps it's because of that grille, that uses the 'L' of the Lexus name to create the look of it.
Some of it may also be down to the colour of our test car, a striking Blazing Carnelian. It stood out above all those boring grey and silver SUVs out there, and turned heads.
Side on, the square plastic guards around the wheel arches are bold, but it's becoming a common design trend at the moment. Lexus says UX buyers are attracted to a sharp design, and they've certainly pulled that off.
One thing that does catch your eye on the side view, are those LFA-looking mirrors. Sexy? Hell, yeah.
Moving to the rear of the UX, and I like it. Some found it a little too busy, but I love the taillights and how all the design elements are working together back there.
The Inside
Our test car was fitted with white perforated leather seating, with black stripes running down the centre. Again, eye catching and I got many comments – mostly positive – on the interior colour scheme.
A shame after the white leather that the headlining is all black, and as usual, this darkens the interior up. The F Sport doesn't come with any sort of a sunroof as standard, which generally helps lighten any interior.
There's some really nice, quality materials used in the cabin, as you'd expect in a Lexus. Touch points nearly always bring a soft material to your fingers. The dash has a nice brushed anodised alloy finish right across it; it feels and looks great. The cabin has a very modern feel to it, with lots of sharp angles all over the place, but still working with some sort of cohesive look to it.
I love Lexus reading lights. I'm not sure who actually still uses reading lights in a car, but the ones in the UX are touch operated. It feels so special, and adds a touch of luxury to the car.
There's a good-sized cubby in the centre console, with a party trick of its own; it can open from either side of the car. It blows passenger's minds as they initially think it's a left-over from left-hand drive conversion, or something like that, but then can open from either side.
I've got to say, rear legroom is a little tight in the UX. I'm not tall, and with the driver's seat in the right position for me, there was only an average amount of room left for rear seat passengers. Taller drivers are going to cut down on that quite a bit.
Popping the electric tailgate, and you'll find two things; a shallow boot and a high loading lip. The boot is rated at a small 220 litres, with an extra 14 litres under the floor (non-hybrids get between 44-51 litres of space under the floor). As always, a sexy rear design like the UX impacts on space.
The Drive
I was instantly more impressed with this hybrid version, than I was with the petrol one. Quieter, smoother, quicker. It felt like a different car.
There's a big central rev counter with a digital speedo within its face. Being the F Sport, that means this model is fitted with a heads-up display (HUD), and it's a pretty good size too. This is one of the better HUDs I've used, it's very clear, and it includes almost everything you need to know, like current speed, current speed limit, audio tracks/station selected, SatNav, and Steering Assist functionality. Always appreciated on a HUD is that the sign showing the current speed limit flashes red if you exceed it. It really catches your eye as a reminder to slow down.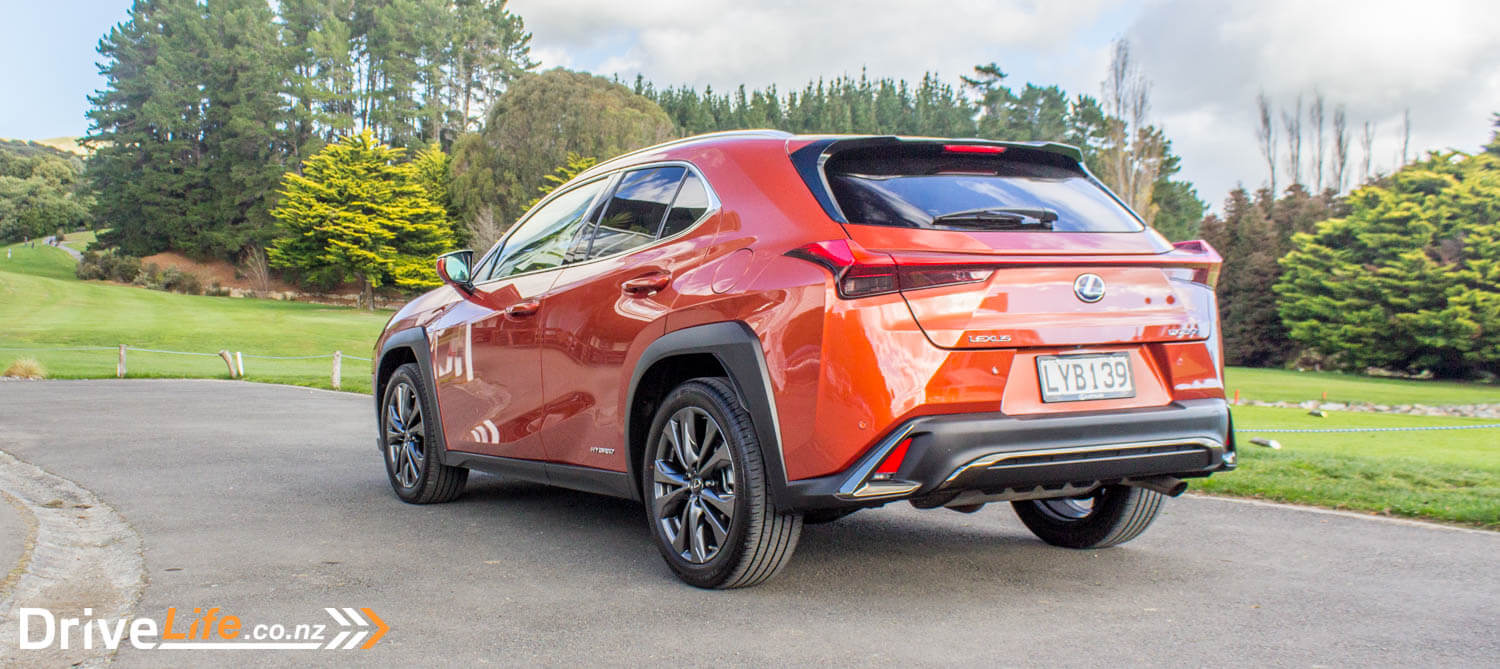 One of the reasons I like having that feature in a HUD, is that the UX 250h F Sport is an extremely quiet ride. Even when it's not running in EV-only mode, it's still almost silent around town. Floor it up a steep hill, and once that motor kicks in there's engine noise for sure, but overall it's pretty serene.
Not really helping this along is the tyre noise, which weirdly is quieter on coarse chip seal roads than they are on tarmac. It felt like tyre noise was always present, although it was fairly subdued. Wind noise too is subdued, with just a hint of it on the motorway around the A pillars.
I did try the EV button now and then to force the UX into EV-only mode, but I only managed to get it to work half the time, if that. Either the battery wasn't charged enough, or I was going too fast for it to work. In the end, I left the EV button alone and let the car do its thing, and we got along just fine.
Up above the steering wheel on top of the instrument binnacle are two buttons – Drive Mode on the left and Traction Control on the right. I know the design is straight from the LFA, but I'm not sure around the logic of these. Sure, have the drive mode button there right up top was sort of handy, compared to putting it on the centre console where it is for most cars. Also, you can switch the car back to Normal Mode at any time by pushing the button in, which was good. To change to a different Drive Mode, you rotate it.
One of the settings for the Drive Mode is Custom, so I cruised into the menu system on the centre display to see what I could change. There's not too much here; you can switch the chassis between Normal and Sport; the air conditioning between Normal and Eco; lastly you can choose between Power or Eco for the powertrain. Obviously, you select your desired options, then this becomes the settings for the Custom drive mode. In all fairness, I couldn't tell much difference, other than having the powertrain on Power. But you can do that by rotating the switch anyway. I can't see many UX buyers bothering with the custom settings.
Back to the binnacle buttons. The one on the right turns on or off traction control. I'm not sure that's the best button to put up there, high on the dash and in easy reach. I would have thought a button of another sort that was used more regularly would be better placed there, maybe the EV mode button instead. There aren't many people I know who drive around playing with the traction control, especially in a Lexus.
One other strange thing with the UX – and I can only put it down to these two binnacle buttons  – is that I couldn't raise the steering wheel high enough. It was okay in its highest position, but I really wanted it to go an inch or two higher. Not the end of the world, but taller drivers might have some instruments blocked. Still, there's always the HUD to keep an eye on things.
The 10.3" central display is brilliant. High resolution, and you can easily split-screen it if you want to. It's super wide, and has become a little more integrated compared to Lexus of old, so it's a win-win.
Moving down from the display is a row of toggle switches for the AC. These buttons have a fantastic, tactile feel to them. They feel like quality. Lexus has also marked buttons that have only one function (e.g. fresh air or recirculate) with one marking at the front, while other buttons that have more functions (e.g. the fan speed) have two markings. If you don't want to look, the buttons that have more than one click also have dimples on top, so you know without looking. Some nice ergonomic work, right there.
But then we move down to the centre console and the touchpad controller. Ug. I adjust the speed of it right down, and also turned off the haptic vibrations, as it vibrated almost violently under my finger. Once I adjusted it, it was better, but still no match for a simple jog dial. I avoided using the touchpad in the end, it's not a practical way to operate a menu system in a moving car, and even when stopped, I found I could easily go past the option I wanted.
To the right of the touchpad is that stubby, sexy gear shifter. It looks great, and it feels great. Drop it to the right into manual mode, and it falls right under your hand. Sure, you can use the paddles, but this is more fun. I know, it's a CVT, but manual mode at least gives you a sense of changing gears.
There's audio controls behind the touchpad, and I used these often too. Although the steering wheel has audio controls, they are split across the steering wheel, left and right. I'm sure after a while of owning a UX, you'd get used to these, but I found myself wanting to change a track and my fingers would automatically go to the left side of the wheel, where the volume controls are.
The centre console audio controls fall under your hand nicely, and you can easily operate them without looking. Not as safe as using the steering wheel controls, but in some ways safer?
The F Sport has the 360-degree camera system, and it's as good as any other. I did like the 'auto' option, which meant every time my speed dropped below 10km/h, the 360-degree camera would turn on. This is great for parking, as I've found with other cars with the same system, you end up hunting for the View button to turn the camera on when parking, potentially holding up traffic. This system works a treat.
While I mentioned the black and white seats weren't to everyone's taste, the comfort is there. They could do with a little more side support, but otherwise are superb. They're heated and cooled of course, and you can set them to 'auto' so that the climate control system will heat or cool your seat automatically, based on the AC settings. I did like that that car remembered that I had (for example) left the heated seat function on, then turned them back on when I got in the car. A shame though this doesn't work the same for the electric park brake auto hold; you have to remember to turn it on every time you start the car.
I found the UX to be a great city car – this is where it excels. It's got a super-tight turning circle (10.4m) and visibility – helped along by blind spot monitoring – is very good. Adaptive cruise control is fitted to this model, and it's a full stop/go system. That, along with steering assist, makes the daily commute just that much easier – and safer.
For the Daily Drive, the F Sport has Qi wireless phone charging. It works well on the whole, but suffers from 'Qi Slide' (my term), since the base isn't rubberised and is flat. This means at times, your phone will slide off the charging base and stop charging. It's a bummer when your phone is nearly flat and you go for a decent drive, expecting it to be charged at the end. But it's not.
Last thing worthy of mentioning for every driving is the sound system – it's excellent. Clear higher frequencies, clear midrange and nice bass. It covers all the sound bases and will please most drivers and passengers.
So what does it go like? It's good. It's quite sprightly straight off the mark, as the hybrid system gives you its all. CVT transmissions are getting better, and this one is not bad. There's still CVT flaring if you floor it, but let's face it, most Lexus owners will likely just doddle around town on a light pedal.
Using the UX250h as an everyday drive is a breeze, as the quietness and performance endears it the daily commute.
That's not to say the F Sport doesn't at least try and be sporty; it's got the LFA mirrors, and also has a pretend LFA dash. If you hit a switch on the steering wheel, the rev counter slides along to the right to cover the fuel gauge, and then on the left of the rev counter you now get access to other menu options like power flow, SatNav, media. The fuel and temperature gauges reduce down to bars when you have the rev counter slid along like this. It's a great party trick for your passengers, and kids will love it – not that they'll be in the driver's seat.
The UX is the first Lexus to use the new global architecture C platform, with its low centre of gravity, which apparently provides a hatchback-like driving experience. Does it really drive like a hatchback? Close. You can feel the lower centre of gravity, and it does drive very well.
Suspension noise is extremely well damped, and while I didn't get an opportunity to test it out, I think it's do okay on the twisties, if that's what you enjoy. It does tend to typical understeer with some tyre scrubbing thrown in if you push it a bit too hard, but it does pretty well for what it is.
Since the 250h is a hybrid, you'd expect fuel economy to be at least on the Very Good side of things. Over my 400km week or mixed driving, I got 5.8L/100km. For a 2-litre car, that's definitely on the Very Good side of things. Lexus claim a combined rating of 4.5, so I wasn't too far off that. Still, my figure is the same as the stated rating for the non-hybrid.
The Competition
Brand/Model
Engine
Power/Torque

kW/Nm

Number of seats
Cargo capacity, litres
Fuel L/100km
Base Price – High to Low

Jaguar E-Pace R-Dynamic S AWD

2.0-litre, 4-cylinder turbocharged petrol

185/365

5

577

7.7

$79,900

BMW i3

EV with range extender

125kW

5

280

0.6

$77,200

Tesla Model 3

EV

TBA

5

340

–

$73,900

Lexus UX250h F Sport FWD
2.0-litre, 4-cylinder petrol/hybrid
135/188
5
220
4.5
$72,900

Renault Zoe

EV

65kW

5

N/A

–

$68,990
The Pros and Cons
Pros
Cons

Smoothness

Quietness

Fuel economy

Distinctive design

Quality of controls

Definition of central display

360 degree camera

Turning circle

Touchpad

Suffers from QI Slide

Limited boot space

Design not for everyone
The Verdict
The hybrid version of the Lexus UX is the one to get. It's so far away from the non-hybrid, it's worth paying the extra cash.
Quiet, smooth – it's mostly what you'd expect a Lexus to represent. Some things riled me – I've never been a fan of a touchpad in a car – but overall, I believe the hybrid UX would please any buyer.
But it has to be a hybrid UX; I know there's price points that Lexus want to hit, but the non-hybrid isn't worth the money saved over the UX250h.
2019 Lexus UX250h F Sport
4.0 Chevrons
** Many thanks to Judgeford Golf Course for allowing us to use their location for photos.
Vehicle Type

5-door, front-wheel drive hybrid small SUV

Starting Price

$72,900

Price as Tested

$72,900

Engine

2.0-litre, four-cylinder petrol/hybrid

Transmission

CVT

Power, Torque

kW/Nm

(combined)135/188

Spare Wheel

Pump only

Kerb Weight, Kg

2,110

Length x Width x Height, mm

4495x1840x1520

Cargo Capacity, litres

220

Fuel Economy, L/100km

Advertised Spec – combined – 4.5

Real World Test – combined – 5.8

Low Usage: 0-6 / Medium Usage 6-12 / High Usage 12+

Fuel tank capacity, litres

47

Towing Capacity

Kg, unbraked/braked

Not rated

Turning circle, metres

10.4

Small: 6-10m / Medium 10-12m / Large 12m+

Warranty

4 years, unlimited kilometre

4 years free scheduled servicing

ANCAP Safety Ratings

5 Star