A gallon of gas in the US was 44 cents, the Vietnam war ended, the movie

Jaws

was released, the UK voted to join the EU (lol), and Tiger Woods was born.
Something else was born that year; the BMW 3 Series. Arguably one of the most iconic German coupes of the time, made famous by the one model that everyone lusts after, the original M3.
Fifteen million sales later, BMW have launched an updated version, promising to return the car to its driver-focused origins. John from DriveLife went to the launch of the car, and came away impressed.
This month we picked up the 330i petrol version for a two-week test, which included a trip to Taupo and back.
Okay, so it's now not a coupe. But will the new model really be a driver's car, or would we need to wait until the M34i version is released?
The Range
There's just two models to pick from at the moment – the petrol-powered 330i and a diesel 320d, and both are rear-wheel drive, 4-door sedans.
The 320d kicks off at $77,500, and comes with a 2-litre turbo diesel powertrain, with an 8-speed automatic gearbox. Power is 140kW and torque a good 400Nm. BMW suggests you should get 4.8L/100km out of this model, and 100km/h comes up in 6.8 seconds.
The 330i has a 2-litre turbocharged petrol engine, puts out a decent 196kW of power and also 400Nm of torque. Suggested combined fuel economy is 6.4L/100km and base cost is $89,900.
This engine will get you to 100km/h in 5.8 seconds, if you wanted it to.
Standard equipment on the 320d includes 18" M alloy wheels, adaptive LED headlights, a heads-up display (HUD), BMW Live Cockpit Professional, Driving Assistant (including lane departure warning), M Sport package, Navigation System Professional, paddle shifters, Adaptive M suspension, engine auto start/stop, LED fog lights, High Beam Assistant, rear cross traffic alert, 12.3" instrument display, digital DAB radio, 10-speaker audio, wireless phone charging, real time traffic information, Apple Car Play, Concierge Services, BMW Connected Drive, 3-zone climate AC, electric front seats both with memory function, heated front seats, M leather steering wheel, Parking Assistant including Reversing Assistant, and sports seats for the front.
The 330i ups the ante for your extra money, with 19" M alloy wheels, Comfort Access System with keyless entry and Digital Key functionality, Driving Assistant Professional (including Active Cruise Control with Stop/Go function, Steering & Lane Control Assistant), M Sport brakes, Parking Assistant Plus including 3D view, and leather upholstery. As part of Driving Assistant Professional, this includes an 'Evasion Aid'. I can only imagine what this does, and I really hope it does what I think it might (goodbye flashing red and blue lights?) – but I doubt it. I'm pretty sure it aids in evading a collision, but I live in hope.
Our test car was fitted with a few options, like acoustic glazing for the front side windows, ambient interior lighting, BMW Gesture Control, an instrument panel finished in Sensatec, M seatbelts, sun protection glazing, and metallic paint Portimao Blue) for an additional $5,290 to bring it up to $95,190.
There are loads of options for the 3 Series – to see more, check out BMW New Zealand's website.
First Impressions
It's hard not to love a BMW in Portimao Blue – it is stunning. This colour is only available on 3 Series cars with the M Sport package (which all New Zealand models have), and it looks superb. There are those that saw a photo of this car and felt it looked pancaked, but in the flesh it really hits the mark, looking very much like a mini M5.
The rear is nicely sculptured, looking more modern and with two decent-sized exhaust tips, looks like it means business, as well as looking the business.
From any angle, it seems big. It's less than 100mm longer than the previous model, but it feels like it's exploded in size. It doesn't feel big to drive, but it looks so much bigger than before.
The Inside
It was all a bit déjà vu for me, after stepping straight out of the X5; same controls on the wheel, console buttons, and same instrument cluster.
There's a metallic-looking finish on the console, and I think this is one thing I'd change; it feels like it's pulling my eyes towards it, and I got the same feeling from the same finish in the X5 30d a month or so ago.
The steering wheel itself is fairly fat and chunky, and feels great under your fingers. It's noticeably fatter than other BMW leather steering wheels, and I like it.
In front of the gear shifter is a sliding panel to reveal a 12-volt socket, and also the wireless phone charger. Behind the shifter is a good sized cubby, that will fit an SLR camera.
The interior is all black, so a little dark at times, but there are multiple options (7) on interior colours. Sometimes black can feel pretty overpowering, when there's no sunroof to let in natural light. To break things up, there's some nice blue stitching on the seats, doors and console. It makes a difference. Our press car also had the optional M seatbelts, so some red and blue stitching runs down the entire length of the belts. Over the top? It's pretty understated, and does add a sporty touch to the car.
I hate to say it, but the speaker grille is exactly the same as the X5 as well. It looks cheap, and feels cheap. Yes, I'm being a little bit picky here, but it's one of those things that you see all the time while you are in the car – it's right there, in front of your face. Hopefully for the next update, BMW will include some optional speaker grilles too.
Rear legroom not overly generous, but it's fine for average-sized adults. Something I noticed since we're now into autumn and it's so much darker so early, are the LED lights that run the entire length of the doors. You can of course adjust the LEDs to be whatever colour you want, but when a door is opened, the LEDs lights start to flash red to warn oncoming traffic that a door is open. It's a nice safety touch.
The boot is a great size at 480 litres, the extra length of the new model really coming into play. We fitted two large suitcases plus a lot of other stuff in there, with room to spare.
The Drive
It's been a while since I've been in a test car that's rear-wheel drive, and it was a fun couple of weeks. There's not many that can argue that all-wheel drive isn't better and safer, but the fun-factor of rear-wheel drive can't be ignored.
First impressions of the 330i are good – smooth, quiet, seemingly more than powerful enough. The 330i uses the same Live Cockpit that the X5 has, and I expect all BMWs will eventually receive. It's a good system overall, with a speedo on the left, you can option to show SatNav in between the speedo and rev counter – which is on the right. Inside of the rev counter, you can then select from different options, like what drive mode you are in, media, the trip computer, fuel consumption, a G-meter, and lastly the power and torque the engine is giving you in real time.
I'm going to add a 'but' here – it is good, but Mercedes-Benz wins this in this area hands-down, with their digital instrument cluster. It's has so much more customisation ability, and you can change the entire look of the dashboard to a traditional, classic look right through to a sport design – right from the steering wheel. BMW's Live Cockpit is a good attempt, until you see the same thing in a 'Benz. Again, it's still good, but I think there's room for improvement here.
However, blitzing all contenders is the awesome heads-up display (HUD) of the 330i. It's exactly the same as the X5, and that had won me over in an instant. It's a huge HUD, and can display maps, lanes in a graphic, and so much more info than you get from a smaller HUD. It's almost perfect. Why almost? There are two drawbacks to this HUD: The first is that it doesn't matter what drive mode you are in, the HUD doesn't show you what gear you have selected. While the 330i isn't an M model, it looks like one (hell, it has the M Sport package as standard) and so pretends to be sporty, but missing the gear indicator in the HUD is a big no-no from me.
The second thing is the rev counter; it's far too small, and is simply a small bar going across the HUD's display. It's hard to read at a glance – really hard – and with all that HUD real estate to play with, I'm at a loss as to why BMW didn't make it a dial type of gauge, or just make it lots bigger. It's still a great HUD – if not the best in the business right now – but when you are pressing on with the 330i, enjoying that awesome chassis, you really want to know what the engine is doing and what gear you are in.
Moan over. Yes, the chassis is absolutely superb. While there are some front-wheel drive cars out there (many of them, actually) that can handle amazingly well – some to the point where you wonder if they are front-wheel drive – getting into a rear-wheel drive car again is a real pleasure.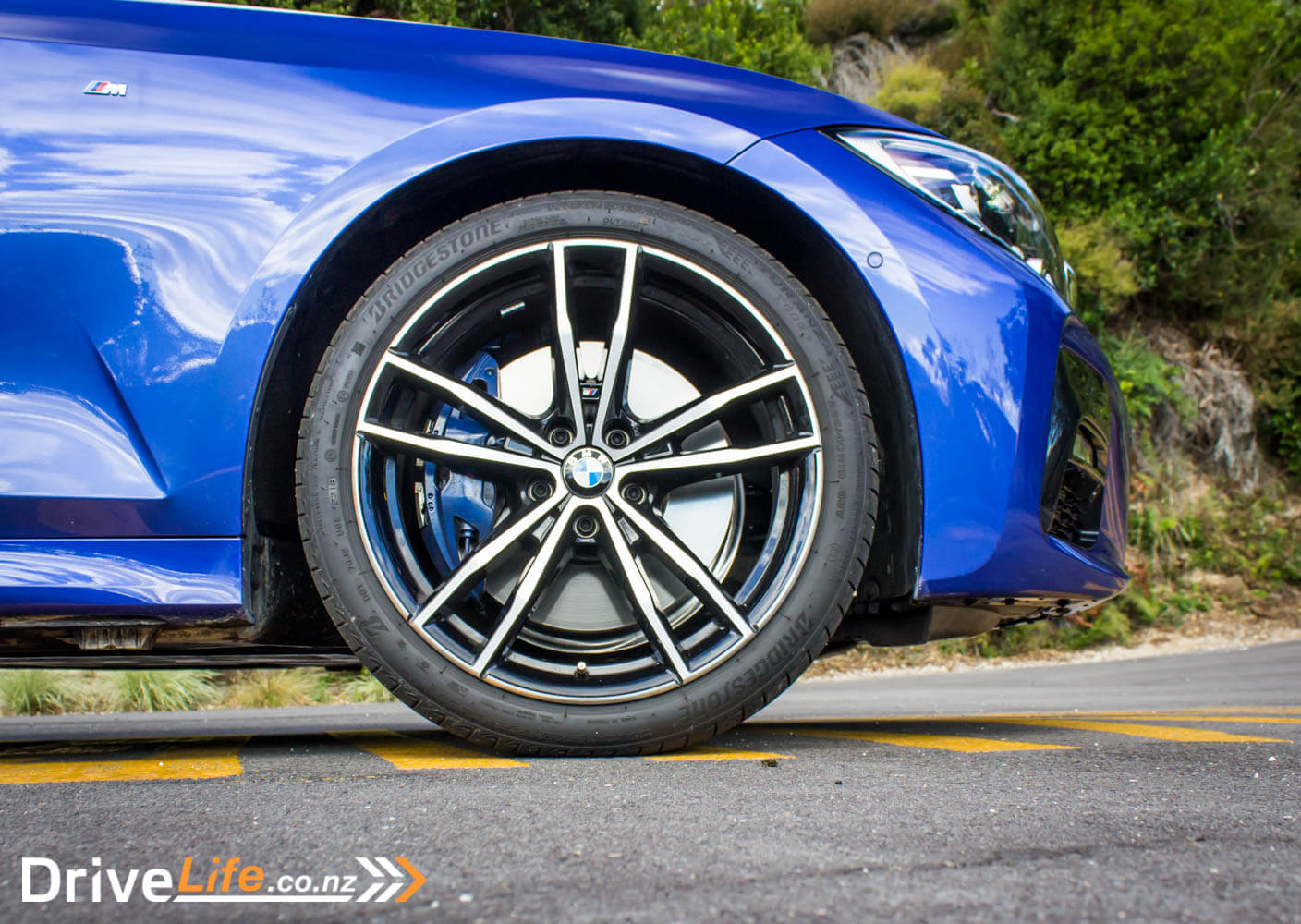 It's a revelation that yes, while most front-wheel drive cars can handle excellently, rear-wheel drive adds a whole new feeling and dimension to it. Going too fast on that hairpin? The rear will simply slide out in relation to how fast you are going. I think such fun is the term I'm looking for. The 330i is a grin machine, when it comes to the bends.
There's the normal BMW drive modes in the 330i; Sport Standard, Sport Plus, Sport Individual, Comfort, Eco Pro, Adaptive. A quick little moan again; like the X5, the 330i doesn't remember what mode you had the car in when you last got out of it. A bummer as I used the 330i on Adaptive mode quite a bit – it does really seem to be the perfect mode – but had to keep selecting it each time I got into the car.
At last our weekend away to Taupo came up, and we jumped in the 330i along with everyone leaving Wellington at the same time. While it could have been torture (I'm not saying it wasn't), adaptive cruise control with start/stop function and using the Steering and Lane Control Assistant meant there was little involvement from me for the thirty minutes we spent either stopped, or crawling along at 5km/h. The car will alert you in ten seconds if you aren't holding the wheel and have adaptive cruise on as well the Steering and Lane Control Assistant, but this only happens at speeds over 10km/h. While you never should of course, I think that you could take your hands off the wheel in a traffic jam and let the 330i drive and steer itself. This I am sure would save lots of traffic jam rage.
Once we were clear of traffic, I still let adaptive cruise do its thing, that 195kW turbo-four doing its thing under the bonnet. It does make you wonder if we really need a 340i version, with this engine seems more than powerful enough. 400Nm of torque gets you passing cars very quickly.
After a couple of hours, I decided – for the first time ever – to test out BMWs 'Caring Car' app. I had two selections to pick from: Vitalize of Relax. Both run a three-minute program using things like the AC, music and lights to either relax or revitalise you. Vitalize will set the AC to 18 degrees, then will blast the fan up and down over a few seconds, and changes the interior LED lighting to green. Relax sort of does the same thing, but the AC goes up to 23 degrees, and the driver's heated seat gets turned on.
So the Big Question: did the Caring Car app work? You know, it surprised me. I tried both modes out over a few days, and Vitalize really did perk me up. The cold air blasting from the centre vents, off and on, off and on, did make me feel more alert. Who knew? I'm not sure we should be encouraging drivers to use the Relax mode while in control of the car, but it'd be great while sitting in road works at a stop/go sign.
One thing that showed its head on our Taupo trip were the tyres; they really don't like our coarse-chip seal at all, with a lot of noise coming into the cabin. In fact, on almost all surfaces, some tyre noise was heard. Motorway asphalt was much better though, in fact on the motorway you would almost whisper to your passenger, as almost all other noise has disappeared. For me, the tyre noise though was the biggest black mark against the car. They are run-flats though, and those types of tyres are never quiet.
We made it past Waiouru, then onto the Desert Road. When there's no other cars, this can be a great place to drive. I love those decreasing-radius corners, as they really test out any car's handling abilities. There's the one corner that tightens up on itself, and seems to go on forever.
For most cars, they'll end up with major body roll. The 330i doesn't seem to care, loving the corners and eating up the Desert Road. You can almost go too fast, not really realising how much speed you have on until you check the HUD. No need to freak out though, even without AWD the 330i is a bloody capable car.
And if you do get to those tight 30km/h corners and there's no other traffic, I expect you could, if you tried a little, to get the tail out nicely, easily drifting through the bends and everything under control. That's what I believe anyway, not that I tried it or anything.
Even on bumpy corners, the tail end doesn't step out unless you are doing ridiculous speeds. This can happen with some rear-wheel drive cars, but the 330i just sails on through them. It can get a bit jiggly at low speeds, but overall the ride/handling compromise is excellent. It's just so composed on the bends. I loved this part of the 330i. In fact, it's really only when you push this car harder does the chassis really show its brilliance – plodding around town is just fine, but throw it at some tight bends, and you will see just how good it is.
One of the reasons for this handling is that the 3 Series cars in New Zealand all come with Adaptive M Suspension, with electronically controlled dampers on the 330i. Not only that, there's been a lot of development work on the suspension in the car and it really shows, as you'd need to push this car very hard to get into trouble.
If you do find yourself in trouble, the 330i's brakes will sort you out. They're easily modulated most of the time, but they do feel a bit wooden around town. When it comes to the crunch, they will wash off speed very quickly. M Sport brakes are standard equipment for all New Zealand 3 Series cars.
I mentioned it already, but it's worth saying it again. Making the car feel that bit sportier is the steering wheel – maybe the chunkiest wheel yet I've seen on a BMW. It feels fantastic, and aids to the impression that you might as well be driving an M car. Hopefully we see more like this in future.
It was night-time when we hit Turangi. After just stepping out of the X50 M50d and its amazing laser headlights, I had to make do with the 330i's LED headlights. They are still excellent – directional, and with auto high beams, you can 'set and forget' the headlights, and they do the job perfectly. I'd still love the GPS-tracked laser headlights though, and these are an option on the 3 Series cars ($2,500).
Performance is not earth shattering, but still very good. Mid-range acceleration is where it's at in the 330i, although that low-end torque can help the car punch it away from the lights, or out of the corners. Sport mode is best used here though, as there can be a little bit of lag in Comfort mode. This was especially noticeable when we had a boot full of stuff for a trip away, and two people on board.
The engine sounds good higher in the rev range though – and not so much down low. I really wanted the 330i to sound a bit sportier than it does, without having to rev the hell out of it. It sounds nice, but it doesn't sound sporty until you hit say 5,000rpm – even in Sport mode. I know, I know – the 330i isn't an M car, but again, it looks sporty with all the M adornment it has, and it looks like it should snap, crackle and pop. I expect we'll need to wait for the M34i for that.
Using the 330i as a Daily Driver is pretty much a breeze – visibility is generally very good, except for a largish C pillar. It's easy to flick in and out of traffic, and the assist system sure help the car do its thing with less input from the driver, or the safety systems helping you keep safe on the roads.
A few little niggles for the daily driver; the 330i has the normal engine auto stop/start, but it's extremely aggressive, sometimes killing the engine before you've even stopped. This makes it a bit of a pain for reversing, as the engine may stop before you even get the car into reverse gear. It'd be nice to have an adjustment for this in the iDrive system, so I could set it for say 5 seconds before it killed the engine.
The 330i's seats are excellent, and not just for everyday use. Our trip to Taupo saw no sore butts, with the comfort vs containment compromise spot on.
As discussed in the X5 review, the 3 Series comes with BMW's Intelligent person Assistant, which can be called up by saying "Hey BMW". You can get her to adjust the sound system, heating, and other tasks that you can't be bothered doing by hand. She can even set the Satnav to get you home, if you say "Hey BMW, take me home".
There's been enough talk about the weird setup with Apple CarPlay and Android Auto. Well, actually, the 330i doesn't have Android Auto, but does have Apple CarPlay. On the other hand, you can use a smartphone app to unlock the car, in place of the proximity key. But the app is only available for Android devices – not Apple. Can't quite figure out BMW's logic on that one, and I don't think anyone has yet. Hopefully an update at some point will get all systems working for both types of phone.
One last surprise; fuel economy. Over 1,200km, I managed 6.4L/100km from the 330i. With 195kW, that's an excellent result and exactly matches the manufacturer's claim – for about the second time ever. Sure, this includes an open road trip to Taupo, but it's still a great result, especially when I didn't muck about with the performance of the car.
The Competition
I think anyone of the below cars would do me just fine. It'd be a hard choice to make, if you aren't leaning towards one brand…
Brand/Model
Engine
Power/Torque

kW/Nm

0-100km/h, seconds
Cargo capacity, litres
Fuel L/100km
Base Price – High to Low

Audi A6 TFSI AWD

3.0-litre, V6 turbo petrol

250/500

5.1

530

6.9

$109,900

Volvo S90 AWD

2-litre, 4-cylinder turbo-supercharged-petrol

235/400

5.9

382

7.2

$99,900

Jaguar XE-S RWD

3.0-litre, V6 supercharged

250/450

5.1

455

8.1

$89,900

BMW 330i RWD
2-litre, 4-cylinder, twin-scroll turbo petrol
190/400
5.8
480
6.4
$89,900

Mercedes-Benz C300 RWD

2-litre, 4-cylinder turbo-petrol

190/370

6.0

435

6.5

$88,900

Alfa Romeo Giulia Veloce RWD

2-litre, 4-cylinder turbo-petrol

206/400

5.7

n/a

6.4

$79,990
The Pros and Cons
Pros
Cons

Handling/ride compromise

Brakes

Fuel economy

Interior quality

Central display quality

360-degree camera is excellent

Sound system

Heads-up display

Speaker grille looks terrible

Wanted the engine to sound better

Heads-up display
The Verdict
After a few days with the 330i, I had my mind set that this was going to get a top, 5-chevron rating. Total no brainer. But after a few weeks, those little niggly things niggled just that bit more.
Let's be honest though – I'd love to have one as a Daily Driver, or a weekend getaway car. This thing eats up the miles, and if you want it to, will assist you lots more than you could imagine so you can arrive feeling fresh after a long trip.
Then there's the look. Some people didn't like the front looking at photos, but in the flesh and in this colour, it looks great from any angle.
But – is it a driver's car? Has BMW nailed it? Mmmmm it's a maybe from me. It's got the M Sport package (but not the M Sport motor), M Sport seat belts and other adornments, but without things like the gear indicator in the HUD and that tiny rev counter in the HUD, it doesn't make it there for me. On the other hand, driving it? Yes, very much a driver's car. You can be really involved in pushing this car through the bends, and it will reward you.
If it came to a long-term test car, I'd be the first one putting my hand up. But bring on the M34i, and let's see if that makes the top spot.
2019 BMW 330i
4.5 Chevrons
Vehicle Type

4-door sedan

Starting Price

$89,900

Price as Tested

$95,190

Engine

2.0-litre, 4-cylinder twin-scroll turbo petrol

Transmission

8-speed automatic

Power, Torque (kW/Nm)

190/400

0-100km/h, seconds

5.8

Spare Wheel

Space saver

Kerb Weight, Kg

1,470

Length x Width x Height, mm

 4709x2068x1435

Cargo Capacity, litres

 480

Fuel Economy, L/100km

Advertised Spec – combined –  6.4

Real World Test – combined – 6.4

Low Usage: 0-6 / Medium Usage 6-12 / High Usage 12+

Fuel tank capacity, litres

59

Towing Capacity

Kg, unbraked/braked

750/1,600

Turning circle, metres

11.4

Small: 6-10m / Medium 10-12m / Large 12m+

Warranty

Five-year warranty

Three-year service inclusive programme

Five-year roadside assist

ANCAP Safety Ratings

5 Star