Recently we reviewed the hybrid version of the new gen Toyota Yaris (against the Suzuki Swift Hybrid) and came away with mixed feelings. It's a good package overall, but the $3,000 extra cost of the hybrid system isn't really worth it. So – what about a petrol-powered Yaris?
Toyota says this all-new from the ground-up Yaris "has been designed with fun in mind". That's a big call, and a Yaris isn't a car that springs to mind if you are thinking about fun. With that in mind, Toyota sent us a top-spec ZR model for an extended 6-week test to see what we thought of it. Since we had the car for much longer than a normal test, I managed to shift it around a couple of other reviewers to get their views on the car as well.
The Range
There's just two models of the new Yaris, the GX (base) and ZR (tested). We're ignoring the GR Yaris here, as that's a totally different beast, although we do have one coming up for review very soon.
Both are powered by the same 1.5-litre, three-cylinder engine, putting out 85kW of power and 145Nm of torque. Both models run a CVT automatic transmission, and fuel consumption is rated at 4.8L/100km.
The GX and ZR are available as hybrids, and you can read about that range in our Swift Hybrid vs. Yaris Hybrid review. Note that the premium for a hybrid version is $2,000 for the GX and $3,000 for the ZR. 
Even the base $25,990 GX model has Toyota's Safety Sense package of features. These include automatic high beams, adaptive cruise control, lane tracing, lane centering, lane departure alert, automatic emergency braking with day/night and pedestrian detection as well as daytime cyclist detection, intersection turn assistance, and road sign assist. It can't be underestimated just how great it is that Toyota includes this safety package with every single new Yaris sold.
Other standard features include 8 airbags, Active Cornering Assist, reversing camera with dynamic guidelines, automatic headlights, LED DRLs, rear fog lights, a 4.2" B&W driver's information display, air con, tilt and telescoping steering wheel, 6-speaker audio, a 7" touchscreen central display, 15" steel wheels, and Bluetooth.
Stepping up to the top-spec ZR at $29,990, you will also get Satnav, a 4.2" colour driver's information display, a heads-up display, paddle shifters, climate AC, LED park lights and indicators, 3-lens LED headlights, LED tail lights, blind spot monitoring, front and rear parking sensors, rear cross traffic alert, keyless entry and start, and 16" alloy wheels.
There's a decent list of 9 colours to pick from for your Yaris; Glacier White, Silver Pearl, Ebony, Black Cherry, Ruby, Coral, Lime, Blue Green, and Eclectic Blue.
You can read more about the Toyota Yaris range on Toyota New Zealand's website.
First Impressions
If ever there was a galvanising colour of a car, I think the Lime of our test car is it. It was a love or hate colour, with the majority loving it. As someone who would like to get every grey or silver car off our roads, I loved it too. The Lime colour made other drivers look twice as you approached intersections, and that's got to be a good thing. Our hybrid test Yaris in October was a metallic red and looked great, and so did our ZR test car.
The current gen of Yaris has certainly gone modern on it, with funky lines and design clues. There's no mistaking it on the road, perhaps that's down to that huge, 'gaping mouth' look, but it's something that couldn't be said for every small hatchback for sale out there.
[Alistair]
The rear is undoubtedly the best angle of the Yaris. I like that the taillights are integrated with the lip spoiler, forming a continuous line across the rear. The red reflector across the spoiler also gives the Yaris a lightbar-look.
The flared wheel arches give the car a sportier side profile, which links up to a front-end featuring sharp headlights and a large grille. Toyota appears to have taken some design risks, and they've paid off. On the subject of risks, the high-vis green paint job is sure to divide opinion. Sure, it's a bit zany, but I liked it.
[Kate]
The lime green goes nicely with the Yaris's sporty look. I liked it in metallic red when I tested it against the Swift Hybrid, and I like it in this green as well. For a young professional woman like myself, this is a great colour!
The Interior
The interior of the ZR Yaris is pretty funky too, mainly due to the interesting instrument panel and the multi-coloured seats.
In the centre of the car there's a tacked on display, with some vents below that. It would have been awesome if Toyota switched these two items around, so the display didn't look like an afterthought, but them's the breaks.
Up high to the left of the display and also under it are some handy shelves, one of them perfectly sized for a cellphone, complete with a non-slip pad. I could see these shelves being used for all sorts of stuff, especially in a small car.
While the seats use different coloured fabrics, the headlining is all black, which is unfortunate. It does make the interior feel a bit claustrophobic, and while those rear doors look sexy as hell from the outside, they also contribute to the feeling of a small interior. This is one area that the Swift has it all over the Yaris. The base model Yaris interior is black only.
To break up the darkness a little, there is some red stitching thrown around the inside, which is a bonus. Piano black makes an appearance as well, on the doors and console. The top halves of the door cards are finished with cloth, and it looks and feels great.
Weirdly for a top-spec car, there are ten switch blanks splattered about, something unexpected.
Rear legroom isn't too bad, although getting in and out can be tricky with those curvy rear doors. At least twice, I had to take five people in the Yaris on a short trip and while it was snug, no one died. The boot isn't on the large side at 270 litres, but still bigger than a Corolla. There's the false floor system too, which is fantastic for either storing little-used stuff in, or removing the panel altogether and getting some extra height. Nice one, Toyota.
[Alistair]
Although my sentiment shifted when I first climbed inside the Yaris. To sum it up, it all seemed a bit over-designed. Inside, there's a double bubble dashboard layout with the infotainment tacked onto it front and centre, which is not a design choice I am partial to. Toyota lined the upper half of the dash with some squidgy material, but otherwise there were several different visible hard plastics used across the dashboard. There's also some interesting housing for the door handles.
All these different elements made the interior seem quite busy. Most modern cars have design continuity from the dash through to the doors, yet I couldn't see it in here.
There are also some trims which felt deserving of a few more fasteners. The main culprit was the centre console, which had a general flimsiness to it. Another was the carpets in the footwells, which could be pushed inward a few inches against the centre console. There's also a plastic trim nearby which you shouldn't be able to lift, but you can.
After living with the Yaris, the interior began to make a lot more sense. All the ergonomics were good, same for the driving position. There weren't any unnatural controls, and there's also an obvious place to store a smartphone (you'd be amazed how many car companies fail to get this right).
The seats were also comfortable and tightly bolstered. They're upholstered in a cool sand colour, which didn't really suit the exterior of our car, but I'd say it generally works with other colours. I also liked some of the convenience features, including the removable floor in the boot, meaning you could have a loading floor flush with the boot lip or have it removed for the extra space.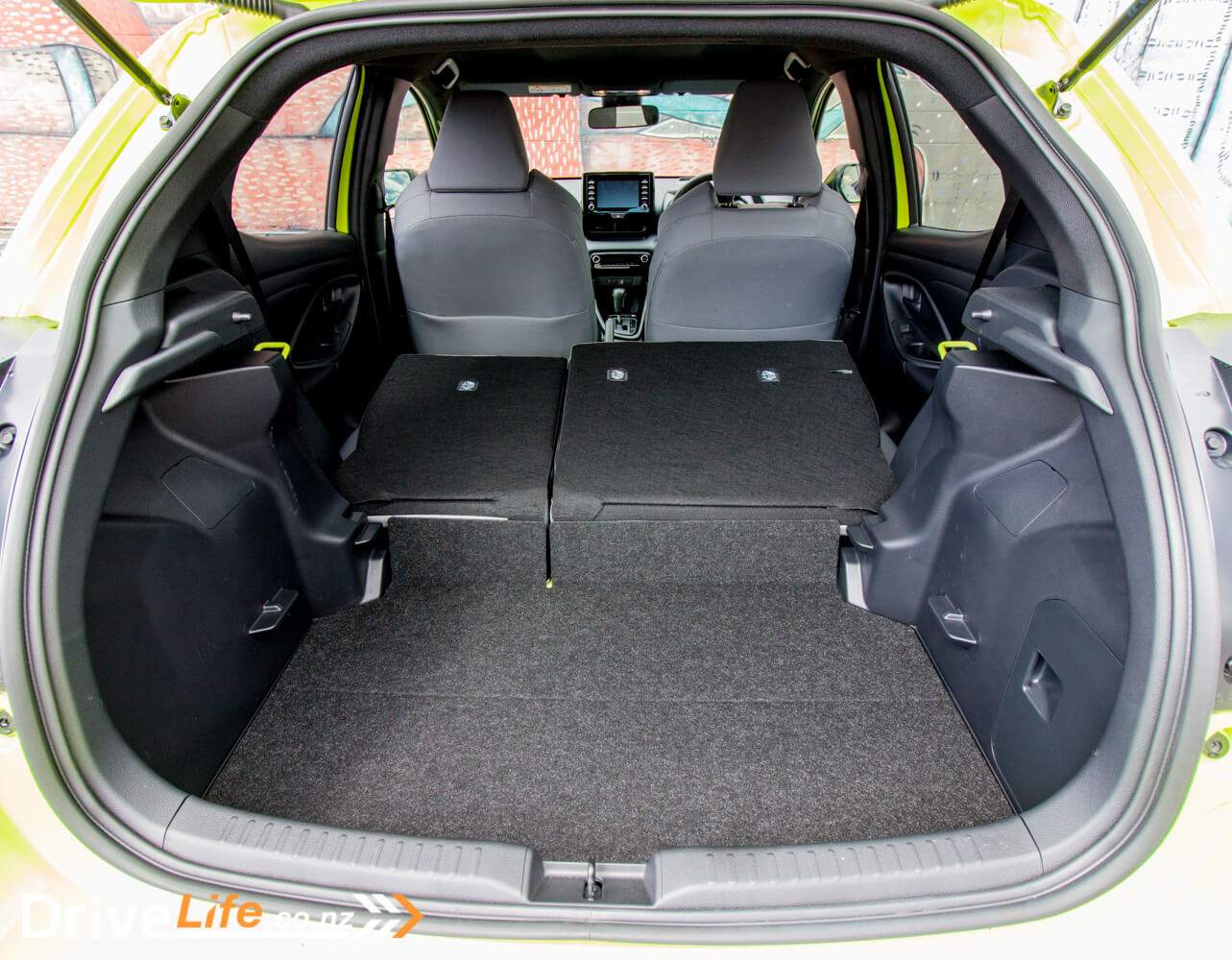 [Kate]
The interior in the Yaris I found a bit basic for a top-spec car, but there is nothing wrong with that. Everything had a spot that made sense and it was comfortable. I did find that the design of the B pillar blocking my blind spot frustrating. It limits the awareness of cars driving up beside you and even backing out of parking spots. I found myself having to ask my passenger for help to see if I'm clear to pass. I couldn't get used to it.
The dash is not crowded which for me is always a plus because I'm not overwhelmed by all these dials or the car's information.There are two round dials that show the speed and rev counter. Then the middle with a bit more information about your drive such as the mode you are in. I always enjoy it when there is a heads-up display and miss it when I get into my own car without it.
Technology
[Alistair]
Perhaps my greatest appreciation for the new Yaris was how technologically gifted it is. In other words, it's excellently equipped for the price.
To name a handful, the Yaris ZR has radar cruise (down to 30kph), lane departure warning, auto headlights, keyless entry, a cool digital dash, an ultra-detailed heads-up display, and even a speed limit display. I had finished driving a 6-figure Audi before the Yaris, and not even that had a speed limit display.
Of course, even for a company as diligent as Toyota, the technology bundled into the Yaris does have its quirks.
In the case of the Yaris, the rear auto brake is more on-edge than a teenager with a dying smartphone battery. For example, I was performing a tight parallel park manoeuvre and managed to trigger it three times. Frustrated, I got out to assess, and the distance between it and the other car wouldn't have even gotten a "yeah, woo" from any passer-by suburban Dads.
Oh, the stereo volume also goes up to a maximum level of 62 – Hm, okay?
The Drive
Every time I got behind the wheel of the Yaris, I was surprised; to see a heads-up display (HUD) in a sub $30,000 car is amazing, and something I hope starts to spread to other cars in this price range. And you'd obviously think it's either a 'poor man's HUD' such as used in some Mazda models, which is a little pop-up plastic panel that comes up out of the dash. But no, the ZR Yaris has a 'real' HUD, right there on the windscreen.
Not only is it a decent HUD, but there's no shortage of information given, either. Your speed, the current speed limit, the current gear (if you have the gearbox in manual mode), revs, SatNav directions, adaptive cruise control set speed, and your audio – this HUD has it all.
I guess there has to be some cost-cutting when you get a HUD, and also all the safety features that the Yaris comes with – even the base model has all the safety features. That means there's no electric park brake, so you'll have to go old school and put the handbrake on and off yourself.
Moving off, there's two things that you notice very quickly; first up, the good thing. The Yaris' ride is excellent. It almost floats over bumps, and for a car of this size, the ride quality is simply superb. I had a MINI Electric after the Yaris, and it was like moving into a go-kart. Sure, the MINI is a lot lower down and is credited as having go-kart handling, but boy is it firm.
The not so good thing – and something that for me, is a big fat negative for the Yaris, is the engine noise. We're used to three-cylinder engines, and love cars like the Ford Focus, Ford Fiesta ST and more recently the Peugeot 2008 GT. Those cars sound amazing, and it's one of the highlights of driving either of them. The three-cylinder in the Yaris can be quite noisy. At cold, it sounds like a diesel – even inside the car – and under load or up a hill, it really lets itself be known. On the motorway or at a steady throttle, it's as quiet as can be, silent even, but when you need to get some performance out of this motor, it will let you know it's working. It's almost smooth, but still not as refined as some others in this segment.
That's a whole paragraph on the engine noise. I say that to highlight that this is an all-new engine – I would have thought that engine noise and NVH would have been something high on the list of requirements when designing and investing in a completely new engine. The engine puts out 85kW of power and 145Nm of torque, which is fairly low by today's standards, and you do need to give it a fair bit of pedal to get it moving. Keep the revs high though, and the 1075Kg Yaris will pick up and go reasonably well. With maximum torque at 4,800rpm, this is to be expected, with acceleration to 100kmh taking 10.8 seconds.
Enough of me complaining about the engine though, what about the rest of the car?
Mostly, it's an excellent little city car, with a trick up its sleeve, but more on that later (I want to save the best until last). There are three drive modes to choose from; Eco, Normal, and Power. Eco is a bit of a non-event – it makes the car too lethargic away from the lights. On a motorway cruise with adaptive cruise control, Eco is ok, but otherwise just leave it in Normal mode and it does just fine.
Power mode does get it moving along better, but generally you'd use this mode on a back road somewhere, when you are going to wind that motor out, but then you have the engine noise to contend with. For me, Normal mode was pretty much it for the duration.
The constantly variable transmission (CVT) in the Yaris does its job, especially when you are simply tootling around town. It's definitely one of the better CVTs out there, and has a ten-speed mode which can be used via the paddle shifters or the gear lever. It will succumb to CVT flaring if you nail the accelerator without using manual mode, and even in manual mode you will still experience some flaring. On the whole though and for most drivers, it's perfectly suited to the car.
I knew since it was a Toyota, we'd get a home screen for the infotainment system. I love a home screen; it means you can have more than one thing on the screen, rather than just (for example) audio or map. There are many expensive brands that leave you hanging in this department. The Yaris' home screen can be customised quite well, with two panels on the left and the right half of the screen one larger panel. It's a great system and simple to use. Lag wasn't too evident, although the quality of the graphics are still behind other brands, looking decidedly chunky on it. The screen could be bigger too; the actual housing for it is quite large and makes the screen look bigger than it is, but on this top-spec ZR mode it's only 7 inches.
On the plus side, great to see Apple CarPlay and Android Auto are standard features. I love CarPlay for the safety of the car reading out and sending TXT messages while driving, handsfree. Other niceties include a verbal speed camera warning, something I always appreciate. On the topic of noises and warnings, like Kate who tested the Yaris Hybrid (against the Swift Hybrid), expect lots of beeping and warning noises happening a lot of the time. After a while they turn to white noise, which I doubt was the intention.
Another bonus of a small car is the turning circle. At just 9.8m, the Yaris can turn around pretty much anywhere.
Last little moan; while it was simply excellent to see the Yaris fitted with adaptive cruise control, it doesn't bring the car to a stop. Instead, at around 25km/h, it turns itself off with a little beep to warn you. If you have the audio up a bit too loud, be warned that the car will not stop itself. The other issue with this is that you can't make the most of one of adaptive cruise control's best-ever features; driving in a traffic jam. This is where it really shines, but it's unusable like this in the Yaris. Such as shame, as this degrades it as a commuter.
Best until last? Oh, yeah. The Yaris uses Toyota's new TNGA chassis, and it's brilliant. Not only from a ride perspective, but the handling in the little Yaris is a dream. Even though it's a city car, I took it out to some particularly windy roads, with some 10-15km/h corners. The steering is so precise, it's like it's reading your mind. The brakes? Excellent too, just the right amount of braking force for the amount of pedal you use. Cornering, while not quite flat, is surprisingly good, and you can move the car into a drift if you push it hard enough, but the drift is so progressive and controlled, it's a doddle to drive it quickly. I'm not suggesting you go out and do this, but the chassis on this little city car is amazing.
Hitting some corners with bumps on them did not unsettle the car as I expected they would, and the Yaris tracked beautifully around the bends, bumpy or smooth.
The engine noise did come into play when I had the car on that road, in Power mode and the transmission in manual mode. I notice it's the noisiest from 4,500-5,500rpm, but after that to the redline, it does sound better.
The CVT can really get hammered on a road like I took it on, and honestly, that was what slowed me down the most. Having a 'real' automatic would have given me more instant performance, but still the CVT did okay and I need to keep in mind this is a city car. Was it fun? For real. By the end of that drive, I was totally impressed.
During the ZR Yaris Hybrid review, we calculated that it would take 187,500Km of driving to get your $3,000 premium of the hybrid back. That was based on Toyota's figures for the non-hybrid of 4.9L/100Km. The real-world number we got from this, non-hybrid Yaris was 6.2L/100Km over 2,000Km of driving. Still a reasonable number, but a way off Toyota's figure. In Kate's review of the hybrid ZR Yaris, she got 4.0, so using real-world figures, that's a 2.2L/100Km saving when using the hybrid, as well as reduced emissions.
[Alistair]
As for the driving experience, the new Yaris feels considerably more substantial relative to its size. I would equate it more with a Corolla over any previous generation Yaris, which is a good thing.
The Yaris' steering had an excellent neutrality to it. Turning the wheel felt linear and the resistance was almost perfectly uniform lock-to-lock. It felt great for a small economy car. The Yaris' engine is a noisy unit when under load and most of that sound does filter into the cabin. You mainly notice it when accelerating on the motorway versus around town.
If you're not used to the noise, your ears may deceive you into believing that the Yaris lacks refinement. In reality, the opposite is true. Block out the noise, and you'll find that the engine is a smooth unit overall. The CVT transmission is also good too.
Working in tandem, the powertrain sips petrol, but the economy is overshadowed by the Yaris hybrid.
[Kate]
The Toyota Yaris is a zippy car to get around the city in. I couldn't complain in the way it drives as it performs smoothly and cooperatively.
Yaris' safety features have always been extra cautious. This can get annoying and repetitive when you live in a city that has tight roads. The Yaris would pick up every middle line I slightly went over to pass parked cars and alert you to brake with no oncoming cars.
The Competition
Brand/Model
Engine
Power/Torque
kW/Nm
Number of seats
Cargo capacity, litres
Fuel L/100km
Base Price – High to Low
Kia Rio GT Line+
1.0-litres, 3-cylinder petrol turbo
74/172
5
325
5.7
$31,990
Skoda Fabia TSI Sport
1.0-litres, 4-cylinder petrol turbo
81/200
5
330
4.6
$30,490
Mazda2 Limited
1.5-litres, 4-cylinder petrol
82/144
5
250
5.3
$30,395
Toyota Yaris ZR
1.5-litres, 3-cylinder petrol
85/145
5
270
4.9
$29,990
Honda Jazz RS Sport
1.5-litres, 4-cylinder petrol
97/155
5
359
5.6
$29,390
Suzuki Swift RS
1.0-litres, 3-cylinder petrol turbo
82/160
5
265
5.1
$27,990
Hyundai i20
1.4-litres, 4-cylinder petrol
74/134
5
301
6.5
$26,990
MG3 Excite
1.5-litres, 4-cylinder petrol
82/150
5
307
6.7
$19,990
The Pros and Cons
Pros
Great standard safety features
Adaptive cruise control
Styling
Handling/steering/braking
Multi-level boot
Superb ride
Tight turning circle
Cons
Noisy engine
Adaptive cruise control functionality
Can feel a little claustrophobic
Lots of beeping 
Vehicle Type
5-door small hatchback
Starting Price
$29,990
Price as Tested
$29,990
Engine
1.5-litre, 3 cylinder, M15A-FKS, petrol engine
Power, TorquekW/Nm
[email protected],600rpm
[email protected],800rpm
Transmission
Direct-shift Continuously Variable Transmission (CVT), 10-speed Sequential Shift, torque convertor with lock-up clutch
Spare Wheel
Space saver
Kerb Weight, Kg
1075
Length x Width x Height, mm
3940x1695x1500
Cargo Capacity, litres
270
Fuel capacity, litres
40
Fuel Efficiency
Advertised Spec – combined – 4.9L/100km
Real World Test – combined – 6.2 L/100km
Low Usage: 0-6 / Medium Usage 6-12 / High Usage 12+
Towing CapacityKg, unbraked/braked
Not rated
Turning circle, metres
9.8
Small: 6-10m / Medium 10-12m / Large 12m+
Warranty
5 Years unlimited kilometres
5 Years Roadside Assist
5 Years WoF checks
5 Years capped price service schedule
ANCAP Safety Ratings
5 Star