DriveLife went to the launch of the 2021 Puma and came away impressed. It was only a day's driving about Auckland, but the car had some well thought out features, it was peppy and well made. You can't ask for too much more than that in a small, crossover SUV.
But a day's drive is never enough to really get a feel for a car; how would it be after a week of Daily Driving in the top-spec ST Line? After reviewing the top-spec Toyota Yaris Cross recently, the little Puma will really need to stand out from the rest to make sales, or take them away from the new kid on the block, the Yaris Cross.
There's also the question about the engine; is a 1.0-litre, 3-cylinder engine big enough even for a car this size?
First Impressions
At the launch, the shape and style of the Puma wowed me. Funky, fun and looking very fresh in blue or a bright red. Unfortunately, our test car was Magnetic, or simply grey – and a dark grey at that. It melded into other SUV traffic without a blip on the radar. I really hope no one buys the Magnetic colour, I got cut off twice during my time with the Puma. Even with daytime running lights, other 'drivers' just don't see grey cars.
Still, it's a great shape, looking very 2021. The front reminds me of the Yaris Cross we had recently, and in the end that was my constant comparison model.
Side, front, or rear though, the Puma is a good looker and the design alone may win some buyers.
The Range
For a change for Ford, there's just two models in the Puma range; the base model ($34,990) and the ST Line ($37,990) . Both are 5-door hatchbacks, front-wheel drive, and mechanically the cars are identical with a 1.0-litre, 3-cylinder turbo-petrol engine managing 92kW of power and 170Nm of torque. The transmission is a 7-speed dual-clutch automatic.
As standard, you can expect a 6-speaker audio system, an 8" touchscreen central display, Apple CarPlay and Android Auto capability, FordPass Connectivity, SatNav, a 4.2" driver's information display, LED ambient lighting, manual AC, leather wrapped steering wheel/gearshift/handbrake, auto wipers, an auto dimming rear view mirror, tinted glass, active grille shutters, cornering lights, auto headlights, front fog lamps, LED projector headlamps, LED tail lamps, power folding and heated exterior mirrors, puddle lamps, a rear spoiler, 17" alloy wheels, hill start assist, keyless start, Lane Keeping Aid and Lane Departure Warning, reversing camera with 180-degree split view, traffic sign recognition, and a tyre pressure monitoring system. For a base model, that's an impressive list.
If you go to the top-spec ST Line (as we tested), you can also add 10-speaker B&O audio, a colour driver's information display, DAB Digital Radio, alloy pedals, an electric tailgate, adaptive cruise control with Stop & Go, automatic parking, blind spot monitoring, Evasive Steer Assistance, forward collision warning, front and rear parking sensors, keyless entry, and sports suspension. For $3,000 extra, that's pretty good value.
There's six colours to buy your Puma in; Agate Black, Desert Island Blue, Frozen White, Magnetic (grey), Race Red, and Solar Silver. A shame with such a funky looking car that just two of the colours are 'real' colors. I would have loved to have seen some brighter options here.
You can read more about the Puma on Ford New Zealand's website.
The Interior
Black is the order of the day inside the Puma. Well, Ford does sponsor the All Blacks, after all. It can feel all little claustrophobic, which seemed weird as during the launch it felt quite spacious. Perhaps it's down to that grey colour of the car.
Everything looks well finished and feels good too. To break up the black, there's red stitching on the steering wheel, doors, seats, handbrake, and mats. The seats have a checkered pattern on them, and are finished in cloth. No leather here, and really no need for it. The rear half of the doors are finished in a black cloth, and it looks excellent – a nice change from bits of plastic on the upper half of the door.
Up front and centre, there's the Qi wireless phone charger on an angled mount. Chuck your phone on it and forget it. Some cars have light down there that comes on when your phone is actually charging, Ford uses a battery icon on the top of the centre display instead. I preferred this, so I could check the phone was still charging without having to look down while driving. For charging your phone if it's not Qi enabled, there's a single USB port and one 12-volt socket in the front of the car. There's nothing for your passengers.
Still in front, the roof is very heavily scalloped to add head room. It's hard to notice because of the black headlining, and it's not a bad thing at all but once you've seen it, you can't unsee it. Surprisingly, the glovebox actually fits a whole heap of gloves in there. We've seen glove boxes getting smaller and smaller, so it was nice to get one that easily took an SLR camera, with room to spare.
While there's no USB ports in the back, there is plenty of legroom, and the rear doors certainly open wider than those in the Yaris Cross.
As mentioned in the launch article, the boot is excellent in size for this segment at 410 litres. There's the false floor of course, and then a space saver spare under that.
The Drive
Any worries about that little EcoBoost motor not being enough were thrown out the window in seconds. Now I remember the launch of this car, and just how good that three-cylinder motor is. It's smooth, torquey, quiet, refined. It obliterates the 1.5-litre, 3-cylinder engine in the new Yaris, and I suggest that someone from Toyota go and drive the Puma. It's really that good.
I guess to back up that claim, there is the fact this this tiny engine is an 11-time winner at the International Engine and Powertrain of the Year award, from its launch in 2012 to 2019. That's an impressive claim. Keep in mind this engine needs 95 octane gas to run on.
You get to pick from quite a few drive modes in the Puma; Normal, Eco, Sport, Slippery, and Trail. It defaults to Normal on every start of the car, but I did use Eco mode quite a bit, and it's surprisingly usable. I had really expected that at 1.0-litre, Eco mode would be a bust. It wasn't, and it did drop my fuel consumption down a bit too.
Sport mode does give you more oomph off the line, but otherwise no real need for this. Flooring it off the line, it picks up and goes very well, all that torque pushing the car forward up to 100km/h in 9.8 seconds. It will run out of puff at the top end, but lower revs and utilising that torque is where it's at in the Puma.
Slippery and Trail modes are a token gesture towards some sort of light offroading. I didn't get to test them out to see if they delivered, but they're there if you need them.
As well as a gem of an engine, the transmission is also excellent. It's a 7-speed, dual-clutch unit, so I was expecting some jerkiness, but overall it is smooth enough, and I'd still prefer it to most CVT transmissions. You do get some 'DCT Surging' at low speeds, like in a traffic jam. The rest of the time, it's in the right gear at the right time, and you can't ask for more than that.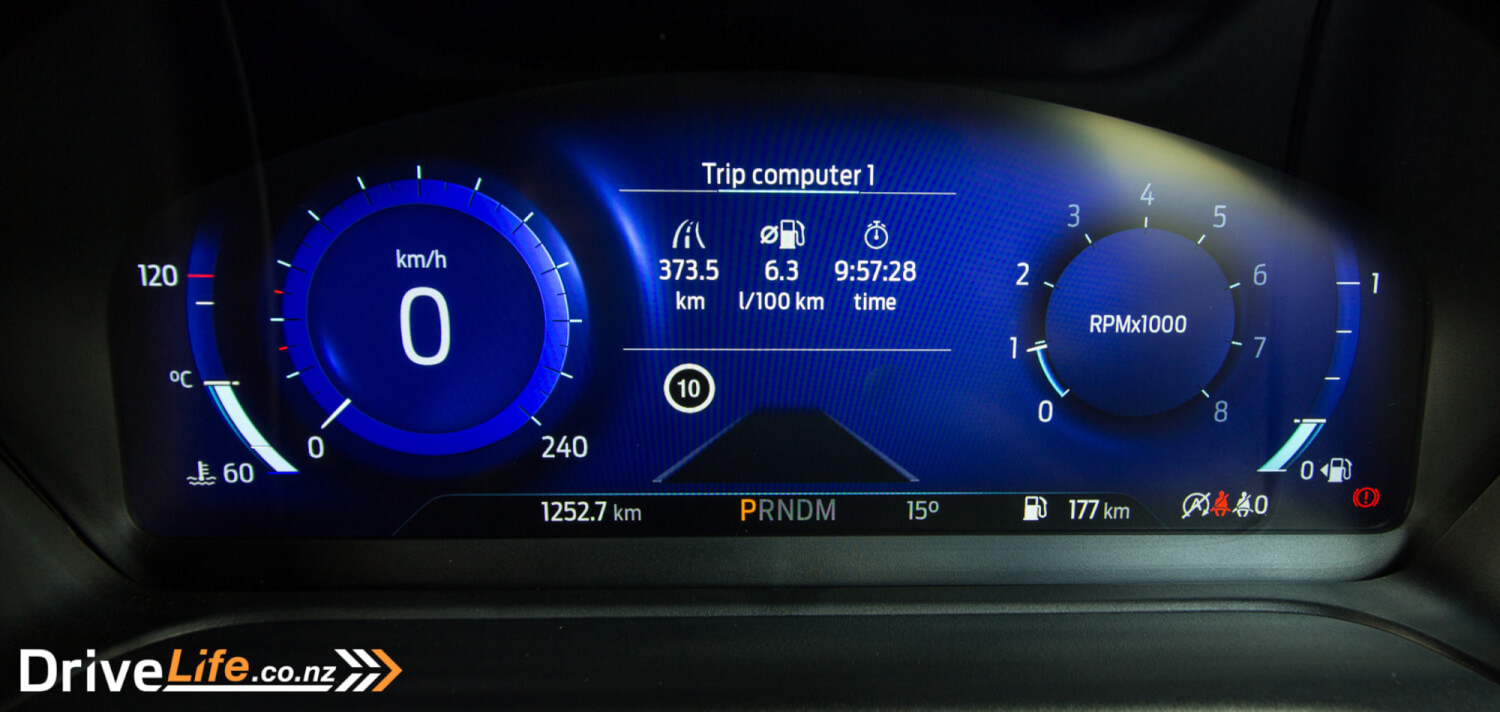 So the powertrain is good, bordering on excellent, what about the rest of the car? It's mostly well designed, and does exactly what you'd expect of a car in this class. The handling is very good, and as noticed at the launch, turn in is excellent, with the car almost falling into corners. General grip is good too, the Goodyear tyres doing their job well. On nearly all road surfaces – yes, even coarse chip seal – the tyres are very quiet, and motorway travel in the Puma is an almost silent affair. The car will understeer if pushed, but that's to be expected. It doesn't handle as well as the Yaris Cross, but in this segment, it doesn't need to.
Those wanting the Puma for a daily drive are in for a treat, with a number of usable features. Visibility is very reasonable, aside from a biggish C pillar but there is blind spot monitoring to back you up. The ST Line comes with adaptive cruise control, and unlike the Yaris Cross, the Puma will brake the car if it goes downhill and goes over the set limit (if there's not a car in front, when it will brake anyway). It's a stop and go system too, great for those motorway stops where's there's traffic lights.
The ST Line also has steering assist, and it's excellent. Bordering on faultless, it rarely misses a line or a turn on the motorway. I used it quite a bit on the daily commute, especially in traffic jams. With adaptive cruise to a stop, and steering assist, traffic jams become just that little more tolerable.
All the windows are auto up/down (yay!), the dashboard is very clear and crisp, and does change colours depending on the drive mode you have selected. The centre screen is a high-resolution unit, and this is another place where Toyota could take lessons from Ford. Flicking between screens can be a little slow, but it's still a world away from Toyota and Honda's current efforts in resolution. There's a home screen too – and this is customisable to what you want. You get to pick from the left half of the screen, and then the top right and lower right. It defaults to navigation on the left, and audio/phone on the right, and that was fine with me.
As a tribute to the role this car will take, there's also automatic parking, which I'm sure some people would love to have.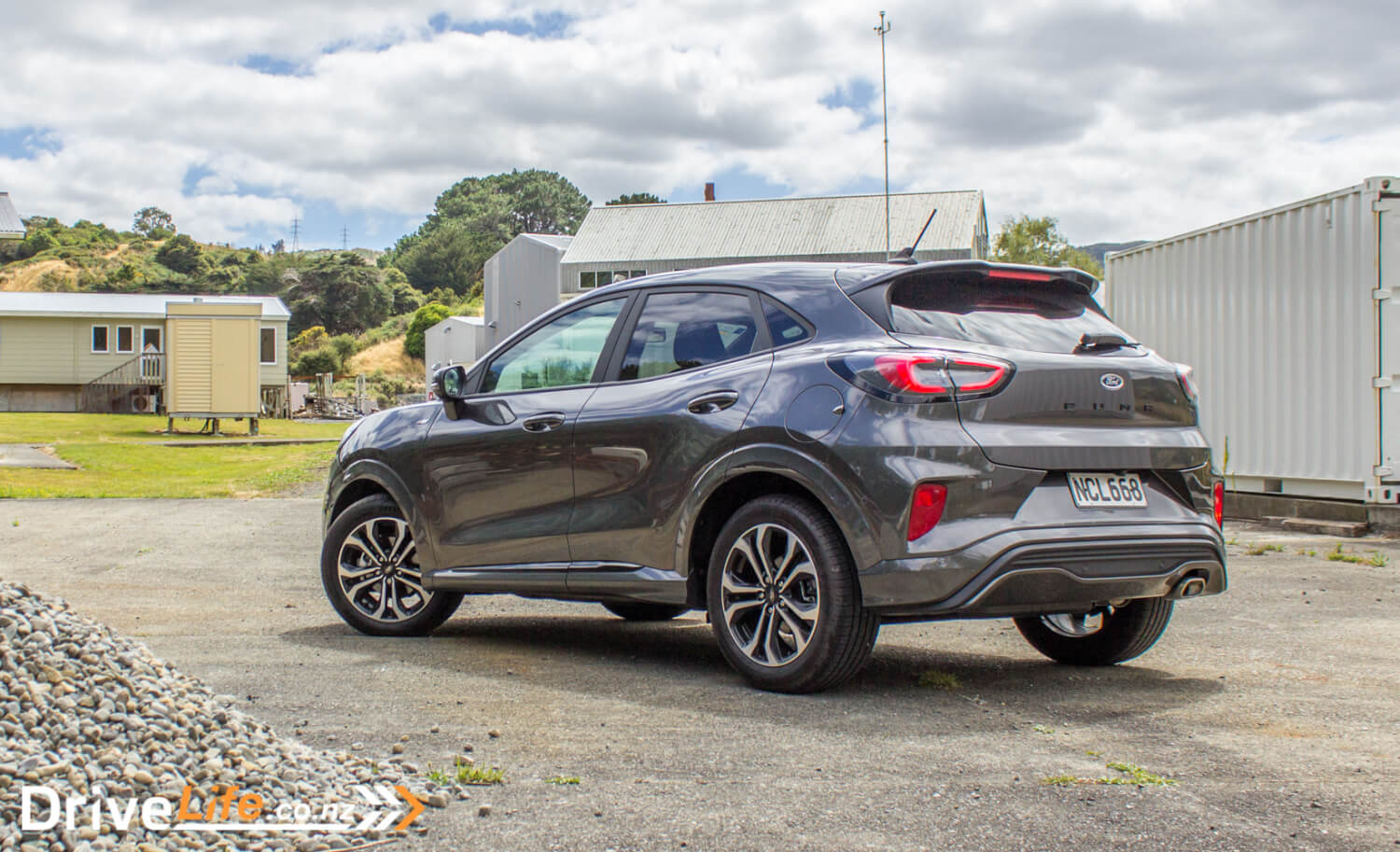 There's no climate AC even on this top-spec model, so I did spend time adjusting the AC more than I wanted to. Still, that's a first-world problem, surely. One other omission but again, not the end of the world, is the use of a manual handbrake. Most are moving to electric park brakes now, but I coped just fine as it was. This does mean that the engine auto-stop restarts the engine at the lights if you put the park brake on, unless you move the transmission into neutral first. I can't understand the reasoning of this, and it all seems a little pointless.
The Puma's steering wheel controls are pretty much standard Ford, and that means audio controls are split left and right. It seems no matter how long I actually spend in a car, I can't get used to this. My brain struggles with having volume on the left, and track/station change on the right. I'm sure after a long time, I could manage but during my week with the Puma, every time I went to adjust the volume, my right hand would look for the buttons.
Puma now comes with the FordPass Connectivity app; you can set up service among a few other things. Actual remote controlling of the car is limited to lock/unlock, start/stop and having the AC on. One catch with that is that you need to have left the AC on when you get out of the car, and left it at a temperature you want when you get back in the car.
Fuel economy was a mixed bag for me. Ford suggests a number of 5.3L/100Km, while over a week and 500Km of commuting, I managed 6.2. That's not great for a 1.0-litre car, but for the performance and driveability of the little EcoBoost engine, I was happy with that number.
The Competition
Brand/Model
Engine
Power/Torque
kW/Nm
Seats
Cargo capacity, litres
Fuel L/100km
Base Price – High to Low
Nissan Juke Turbo Ti
1.0-litre, 3-cylinder turbo petrol
84/180
5
422
5.8
$44,990
Kia Niro SX Hybrid
1.6-litre, 4-cylinder petrol/hybrid
77/147
5
401
3.8
$44,490
Honda HR-V Sport NT
1.8-litre, 4-cylinder petrol
105/172
5
437
6.9
$41,990
Mazda CX-3 Takami
2.0-litre, 4-cylinder petrol
110/195
5
264
6.3
$41,695
Mitsubishi ASX VRX
2.4-litre, 4-cylinder petrol
125/226
5
393
7.9
$41,090
Toyota Yaris Cross Limited Hybrid
1.5-litre, 3-cylinder petrol/hybrid
85/120
5
390
3.8
$38,990
Ford Puma ST Line
1.0-litre, 3-cylinder turbo petrol
92/170
5
410
5.3
$37,990
Suzuki S-Cross Prestige
1.4-litre, 4-cylinder turbo petrol
103/230
5
440
5.9
$33,990
Hyundai Venue Elite
1.6-litre, 4-cylinder petrol
90/151
5
355
7.2
$33,990
Renault Duster
1.6-litre, 4-cylinder petrol
84/156
5
445
6.9
$29,990
The Pros and Cons
Pros
Great engine – smooth, torquey, quiet
Transmission
Design
Boot capacity/flexibility
Well equipped
Rear legroom
Excellent steering assist
Road/tyre noise well subdued
Automatic parking included
Cons
No climate AC on this top-spec model
Engine autostop functionality
Vehicle Type
5-door small crossover SUV
Starting Price
$37,990
Price as Tested
$37,990
Engine
3-cylinder, 1.0-litre, turbocharged petrol
Power, Torque
kW/Nm
92/170
Transmission
7sp Seq. Manual Auto-Dual Clutch
Spare Wheel
Space saver
Kerb Weight, Kg
1,285
Length x Width x Height, mm
4186x1930x1550
Cargo Capacity, litres
410/1170
Fuel capacity, litres
42
Fuel Efficiency
Advertised Spec – combined – 5.3L/100km
Real World Test – combined – 6.2L/100km

Low Usage: 0-6 / Medium Usage 6-12 / High Usage 12+
Towing Capacity
Kg, unbraked/braked
NA/750
Turning circle, metres
NA

Small: 6-10m / Medium 10-12m / Large 12m+
Warranty
5 Years, Unlimited Km
3 Years Roadside Assistance
ANCAP Safety Ratings
5 Star